Nationwide Capital Funding Inc.
Corpus Christi, Texas, Est. 1998
At Nationwide, our goal is to create a convenient factoring service that adds benefit, no-hassle, to your company. You have enough to worry about.
When you complete the job and invoice your customer, as usual, submit the invoices, you would like to fund, and Nationwide takes it from there. We will review and confirm your invoices, fund your advance, monitor your invoices, perform any needed collections, and process the payments from your customer.
In addition to our dedicated, easy-to-get-hold-of account management team, we also use top-of-the-line factoring software that offers you an excellent online portal experience to stay connected with your account anytime, anywhere.
Our online portal provides real-time information, reports, payment images, collection notes, and the status of your overall account, as well as individual invoices. Any activity on your account is available to you at the push of a button. It's important to us that we provide our clients with not only excellent service and communication but also access to accurate, transparent reporting.
Eddie Thornton is the Co-founder and President of Nationwide Capital Funding, Inc. Eddie graduated with a Business Degree from the University of Texas in Austin. He currently has 45+ years of business experience in corporate and private enterprises.
Eddie became involved in alternative business finance and commercial factoring in 1995. After 3 years with another factoring company, he founded Nationwide Capital Funding, Inc. in August 1998. We are based in Corpus Christi, Texas, and operate throughout the United States.
---
Daryl Thornton is Vice President of Sales & Marketing and heads the New Account Development department at Nationwide Capital Funding, Inc. Daryl has worked in sales since he was a teenager and has sold goods/services for multiple Fortune 500 companies.
He now finds his home in the factoring industry and has been with the Nationwide team since 2003.
Ben Jackson is Vice President of Operations and CFO at Nationwide Capital Funding, Inc. Ben graduated with a Bachelor of Business Administration in Accounting and Information Systems from Schreiner University.
"I've been intrigued with the factoring industry ever since I discovered the concept of how it works. Watching so many different types of businesses grow under our wing is what truly drives me." Ben has been a part of the Nationwide team since 2006.
Kaye Gwyn is the Office Manager at Nationwide Capital Funding, Inc. Kaye was born in Baton Rouge, Louisiana, and has a B.S. from Louisiana State University. Kaye previously worked in retail, doing sales and purchasing. We're proud to say she now considers herself a Texan since she's been here so long. Kaye has experience in every aspect of the Operations Department. She has been with the Nationwide team since 2000.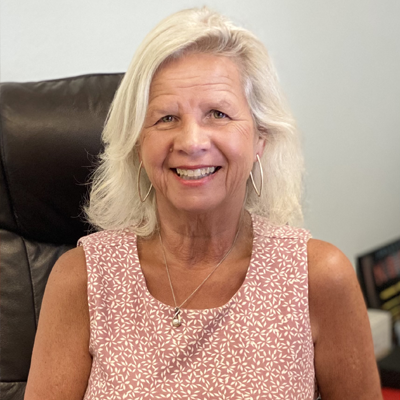 Delesa Schumacher heads the Collections Department at Nationwide Capital Funding, Inc. Delesa uses a "kill 'em with kindness" approach while collecting accounts for our clients. Our clients and debtors love working with Delesa because of her calm demeanor and experience collecting accounts receivable. Delesa has been with Nationwide since 2005.
Laurie Gomez is the Receptionist & Data Entry Specialist at Nationwide Capital Funding, Inc. Laurie is an expert in invoicing portals which are required by many companies to process payments. Over the course of one week, Laurie will review and enter hundreds of invoices, so our clients don't have to. She is the newest member of the Nationwide team and has been with the company since 2014.